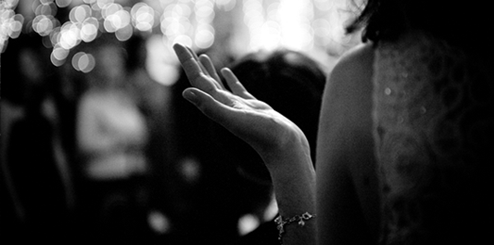 They watched as Plan A fell away,

and God replaced it with…Plan A.
Our pastor spoke these words over us a year ago today as he joined our lives and families together.
Our friends love to call it Plan A+.
God's supernatural aptitude to work everything for good still blows my mind. And it is supernatural for sure – heads above any piecemeal makeover plan we could scrap together ourselves. I had asked Him many times in those dark years – do You truly mean you will work everything for good? Including the deepest pains and losses, the ugliest failures and wrongs – the real messy everything? Because a God who only offers hope for the typical was just not going to be big enough for our suddenly kareening-off-course life.
But He actually specializes in the real, down-and-dirty kind of everything, when we can not possibly resurrect the original plans and all seems lost. That is exactly when the Hope Incarnate delights to really show Himself. His power. His unfailing love. His goodness. His five-dimensional, supernatural plans and all the passionate minutia that goes into it as they are breathed to life. One of the most beautiful expressions of this hope lay in all that God worked leading me to Papa, and to this very day, one year earlier.
After reading the Christmas story to our children this year, I shared with them the thoughts from my last post. Did Mary ever wonder how God could have orchestrated something that looked so … messy? Did she ever, or often, wonder if He actually knew what He was doing? If He was indeed trustworthy? And then I talked about all the changes they've been through these last few years, the pain of divorce and the messiness of it all, and how different their homes and families are than most; and asked them the very same question.
Do you ever wonder if God knows what He's doing?

Do you ever look at your crazy out-of-the-box life and wonder If He can be trusted,
is working it all for good?
The conversation that followed was simultaneously beautiful and heart-wrenching and tender. And somehow within all of their questions and all still unknown, God has given them each an amazing peace that surpasses what they don't understand. And at the end of the conversation, dear little Eliot concluded, 'But to me, it somehow feels like this was God's plan all along. Like we were always supposed to be a family.' This was immediately met with a roomful of emphatic nods, and smiles and shared, transcendent agreement.
I am so thankful today that His ways are not our ways and that He is always at work behind the scenes – whatever those scenes might be.
I am so thankful for my first year in Plan A+ doing life with Papa, and all of our amazing children. A+ does not mean easier – it has been packed full and challenging and brimming with life and struggle and play and work. There have been nights we have fallen into bed, exhausted emotionally and physically with no words to be found. As well as nights I could hardly sleep because of the joy overflowing. But God has been with us, navigating, every step of the way. And it has been really, really, good.
Thank you God, for a year in plan A+. 
For peace.
For…
Growing in real, strong love within authentic relationship and conflict and family.
A dinner table full on every side with smiles and  chatter and love, and all the crumbs that fall and mark the fullness.
An amazing parenting partner, who values what God values.
Largeness. Of home, family, promise, and hope.
Papa's long eyelashes and twinkling eyes, always clear, that steady me.
A husband who can walk away when a heated conversation warrants it, and return with clarity and purpose.
A partner who forgives quickly and intentionally.
Love that gives me space.
Love that can break through my analytical shell and make me laugh at myself.
Love that never tries to force or control me, but trusts me and believes the best.
Patience. And more patience.
Beautiful new friendships, formed together. And beautiful weathered friendships that will last a lifetime.
Delicious gourmet dinners, from Sweet Chili Glazed Salmon to Potato Crusted Quiche, and everything in between.
A family so large that I get to step outside of myself and be stretched and learn the art and joy of serving.
Endless piles of laundry, soiled by so many little ones we love.
Laughter and late night games where I am always challenged.
Quiet moments writing together in front of flickering candles.
Early mornings at peace, with Papa, with God, together – before the frenzy of the day and the roar of children rises up.
Road trips with a van full of electrified elementary school children … all ours.
Vans to borrow from generous friends.
The day Sullivan had a meltdown and ran away and Papa went after him and carried him home in his arms.
Papa's patience as with all the little hurting hearts still healing up from loss: patient in their grieving, their adapting, their anger, and their growth.
Together loving on others as God has brought many to our doorstep with similar hurts and pain.
Time in the woods. Time on our porch. Time at the lake. Time in the city. All of the time, together.
Projects, somehow. A new woodshop in the basement. Gingerbread houses. A painted bathroom. A 100-yr old house being maintained once again.
Fishing. Camping. Dancing. Crying. Poker. Teaching. Nerf Wars. Praying. Writing. Feasting. Creating. Building a life together.
The elaborate, messy, exquisite God-lead blending, day in and day out, of two hearts, six children, and four pets.
Shared joy. Divided grief.
Goodness.